Saturday January 09, 2016 @ 12:00 pm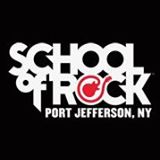 School Of Rock Concert
@ 12:00 pm
THIS EVENT IS FOR ALL AGES
SOR Presents a tribute to VAN HALEN!
SOR Presents a tribute to Emerson, Lake and Palmer and King Crimson
---

Live Wire ( AC/DC Tribute), No Angelz, Cintron, Demartino, Rondinelli
THIS EVENT IS 21 AND OVER
DOORS AT 7 PM FOR ADVANCE TICKET HOLDERS ONLY.
DOORS AT 7:30 PM FOR ALL OTHERS.
8 PM  Cintron, Demartino & Rondinelli
Bobby Rondinelli on drums George Cintron on guitar and holding down the bottom Rob Demartino on Bass .......... this is a Sat night early show .........Three of LI's top players team up to give you the heavy classics that only these three can put together ...........
9 PM   No Angelz
No Angelz is Powerful original Rock Band.
Powerful Drums... Powerful Bass... Powerful Guitars... Powerful Lead and Background Vocals!  Add lots of groove, relentless riffs, multiple melodies, creative harmonies and you've got a Unique and Intense Rock Experience. Don't be afraid to turn the volume way up!
10 PM  Live Wire
North America's #1 AC/DC Tribute show. Live Wire offers the most complete and authentic reproduction of AC/DC's sound and stage performance in the world. Emulating the pure essence, power, and electricity of what an AC/DC show is all about has proven to audiences time and time again that you can't stop rock 'n roll. The band has performed worldwide and stolen the allegience of audiences everywhere.
"Partial to AC/DC?...Try Live Wire!" - CBS Sunday Morning News

---