Thursday February 04, 2016 @ 07:00 pm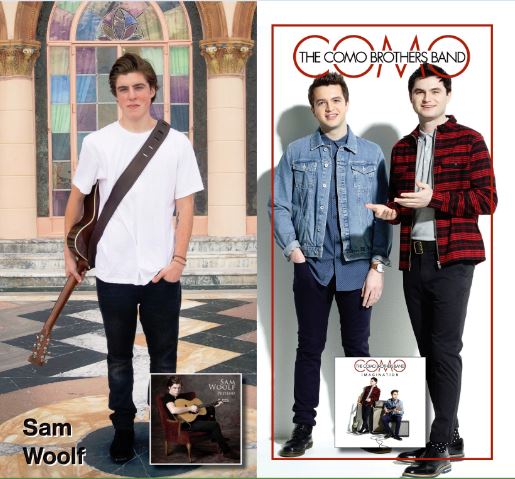 Sam Woolf, The Como Brothers, Dylan Brady
THIS EVENT IS FOR ALL AGES
Doors                       
7:00 PM
Show                      
7:20 PM
Dylan Brady          
7:20 PM - 7:50 PM
Como Brothers      
8:00 PM - 8:30 PM
Sam Woolf            
8:40 PM - 9:20 PM
Meet and Greet      
9:30 PM- 10:00 PM
SAM WOOLF is a folk/pop singer songwriter known for his original arrangements, beautiful pitch perfect tone and emotional original songs. His performances and recordings have obtained millions of views on YouTube and Sam receives tremendous support from his fan club, the "WOOLFPACK" on social media. Sam Woolf has gained national recognition as a finalist on American Idol's 2014 Season where he placed in the Top 5. Independent Grammy-winning producer Danny Blume has agreed to produce and record an EP containing Sam's originals for release.Sam was born in Detroit and lived in West Bloomfield, Michigan until he was 10. Sam has since lived in Florida and he graduated from Bradenton High School in June of 2014. Sam's father, Scott Woolf, introduced him to acoustic folk-rock music when he was a young child. Sam's Grandfather ("Papa Roy") sent him to singing lessons with opera singer Bob Lischetti for several years, and Sam taught himself guitar. During high school, Sam began performing locally in Bradenton at restaurants and cafés and was a mentee of the Del Couch Music Education Foundation, which booked him for performances at local events.
Links 
Como Brothers
Listening to The Como Brothers music you can hear their love of the blues, pop music, and rock n' roll. 
Matt and Andrew Como are singers, songwriters, and performers.  Their new album Imagination was recorded with Grammy Award winning producer Graham Marsh (Bruno Mars, CeeLo Green) at Germano Studios in NYC. Playing with Matt and Andrew on the record is Grammy winning artist and king of groove Steve Jordan on drums.  Steve is popularly known the beat behind the Mark Ronson/Bruno Mars song "Uptown Funk" and a member of John Mayer Trio. Also playing on the record is renowned John Mayer/Rufus Wainwright keyboardist Andy Burton. The album is available on iTunes now. 
The Como Brothers have also just released their live album Live at 89 North! On the album is acclaimed drummer Aaron Sterling known for his drumming on Taylor Swift's RED album, and Sara Bareilles' music including the song  "Brave" and Andy Burton who  played at The Como Brothers "Imagination" album pre-release show in NY.
Their music has been on Keeping up with the Kardashians, MTV's Real World and Oxygen Channel's Best Ink. Indie Movie Wingman and in a Canon Trade Show Commercial. 
 http://www.imdb.me/comobrothersband 
Dylan Brady -- Singing is his life, and making music drives him. In addition to being the lead vocalist of The Brady Brothers, Dylan has also been playing the drums since age five, and recently began playing the ukulele and piano. If you were to ask Dylan who his musical icon is, he would not hesitate to tell you, "Bruno Mars". Dylan looks up to Bruno Mars not only because of his outstanding voice, but also because of his prowess when it comes to performing. In addition to making music, Dylan also enjoys playing soccer, hockey, and taking part in anything centered around fitness.
While Dylan's goal in life is to reach out to people through his music, he also works toward teaching tolerance and acceptance of others. As somebody living with Tourette Syndrome, Dylan has taken something that may seem like a limitation, and used it as a teaching mechanism regarding mindfulness of others. He regularly speaks at schools across Long Island spreading the message of accepting one another's differences

https://twitter.com/dylancbrady

https://www.instagram.com/dylancbrady/



---
PHOTOS