Friday February 05, 2016 @ 07:30 pm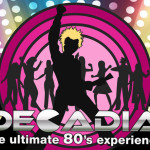 45 RPM, Decadia
THIS EVENT IS 21 AND OVER
DOORS AT 7 PM FOR ADVANCE TICKET HOLDERS ONLY.
DOORS AT 7:30 PM FOR ALL OTHERS.
8:00 PM  45 RPM
September 3rd, 2010: Six seasoned musicians, stuck in a rehearsal room, challenge each other to a game of "What's the cheesiest song you remember from the good old days of top 40-AM radio?" The result (in addition to a great jam)- 45rpm, your purveyors of musical dairy products. Meet the band that plays note-perfect renditions of songs from the heyday of AM radio, milking each number for every ounce of its cheesy goodness.
10:15 PM DECADIA
Each Decadia show is jam packed with hit after hit, covering your favorite songs of the great musical decade of the 1980s. Performed by an unequaled 8-piece band fronted by three amazing and entertaining singers, the biggest songs of all genres are reproduced with astonishing musical integrity. The giant screen video effects coupled with lights and lasers help make the show a spectacle that truly pays homage to the last decade of great music. Every aspect of the 1980s is treated with respect, admiration and nostalgia making Decadia a world-class 80s tribute show.

---
PHOTOS