Saturday February 13, 2016 @ 07:00 pm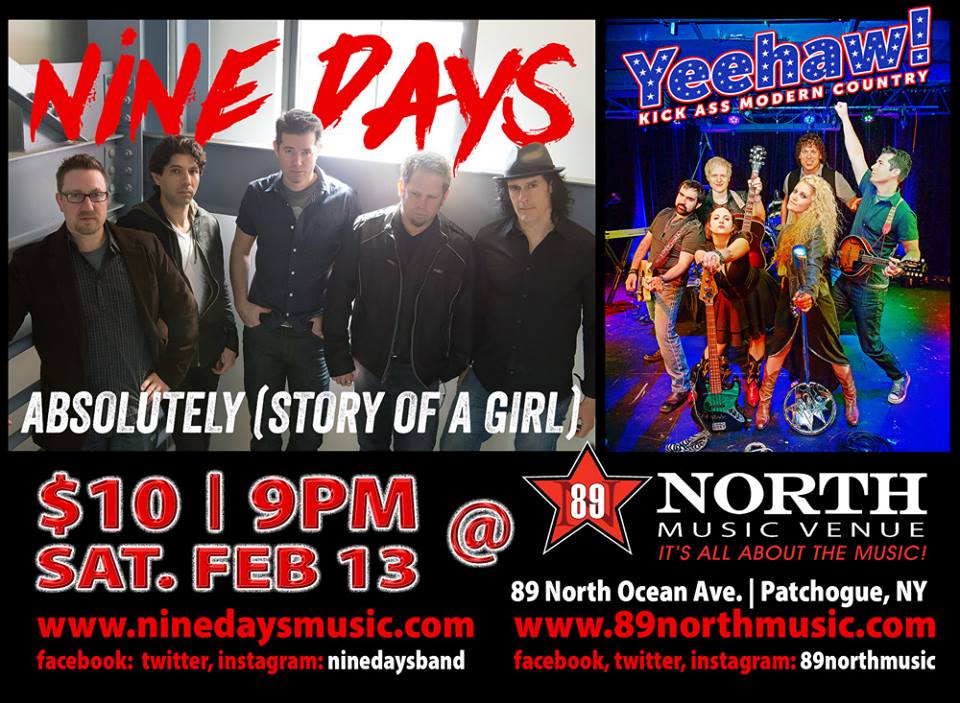 Nine Days, Yeehaw, Sometimes Jamiee, Christine Holt.
THIS EVENT IS 21 AND OVER
DOORS AT 7 PM FOR ADVANCE TICKET HOLDERS ONLY.
DOORS AT 7:30 PM FOR ALL OTHERS.
8 PM  Sometimes Jamiee
Long Island-based singer-songwriter Sometimes Jamiee will release her first professionally recorded EP on March 24th 2015.  Jamie DeFilippis (Sometimes Jamiee) is preparing for major exposure with her EP It's Only Your Twenties, available for pre-order on iTunes and Amazon now!
8:30 PM  Christine Holt
Long Island based singer/songwriter.
9 PM  Nine Days
Released during the summer of 2000, the band's major label debut album, The Madding Crowd, was a blast of guitar driven pop songs with lyrical backbone. The album very quickly went Gold and spawned the hits "Absolutely(Story of a Girl)", which went to #1 that summer and was one of the biggest hits of the year, and "If I Am" (#18, 2000). The band was formed in Long Island, NY by singer/guitarists John Hampson and Brian Desveaux, who began writing songs together in 1994. In this immediate post – grunge world, the focus was on writing songs that combined the 80s pop they grew up with with 70s singer/songwriter Americana music they loved. After holing up in John's apartment for a few months writing songs, bassist Nick Dimichino, drummer Vincent Tattanelli and keyboardist Jeremy Dean joined the band and a "sound" was realized. After playing hundreds of shows and recording a handful of indie records in the late 90s, The band signed with Epic records in 1999 on the strength of a demo featuring the soon-to-be hit, "Absolutely (Story of a Girl)".
The band is currently in the studio with producer Jim Scott (Wilco, Grace Potter, Court Yard Hounds), working on it's ninth album. The new album will be a return to the guitar driven pop of it's 2000 debut.
10:30 PM  Yeehaw
Kick Ass Modern Country Band!
John Hampson (Guitars, Vocals)
John Miceli (Drums)
Richie Castellano (Guitars, Vocals)
Bri Arden (Vocals)
Ann Marie Castellano (Bass, Vocals)
Andy Ascolese (Keys, Guitar, Vocals)

---