Sunday February 14, 2016 @ 05:00 pm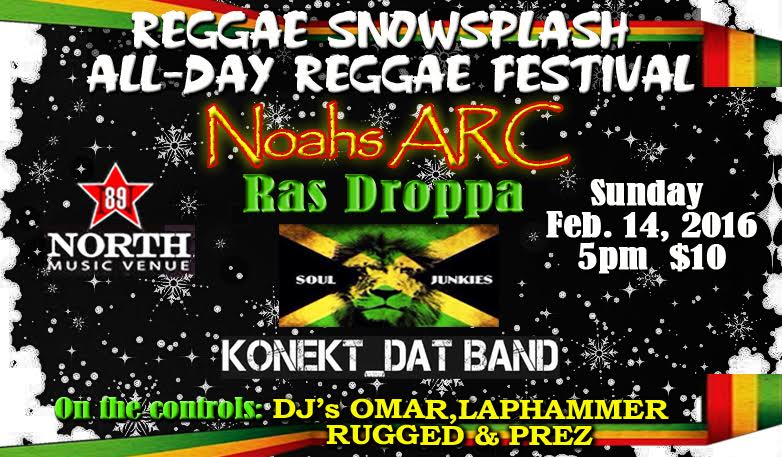 REGGAE SNOWSPLASH 2016 ALL-DAY REGGAE FESTIVAL
THIS EVENT IS 21 AND OVER
On the controls:  DJ's Omar, Laphammer, Rugged & Perez.
9:15 PM   Noah's ARC
Formed in 2007, Noah's ARC (aka No Ones Arc) return to 89 North with the most high energy and diverse set of Jamaican rhythms on this island. The "Suburbaclot Sons of Patchogue" will close out the night with a bunch of infectious originals and a couple of covers that draw from styles including: Reggae, Ska, Dub, Rocksteady, and Dancehall.
In 2012, the group was joined by vocalist, Watty Burnett (The Congos), for select dates and are returning favorites to the annual Great South Bay Music Festival.
Noah Pagano - bass, vocals
Craig Pagano - guitar, vocals
Scot Gropper - keys, vocals
Mark Rios - drums
Karl Olbriger - sax, pennywhistle & percussion
8 PM  Ras Droppa
Born Samuel Richards, musical artist Ras Droppa, has either been making music or
helping to spread music throughout the world for close to thirty years now. This
would be incredible for someone so young but not if you consider that he has
been singing since the early age of three. Along with his older brothers in the
streets of Jamaica, Ras Droppa began as most of his brothers did, by singing and
playing the melodica, his first true instrument.  
Ras Droppa is well known and respected throughout the New York area reggae
scene and around the world, and whether headlining with his band or supporting
another artist on bass guitar and vocals, one can be assured that they're in for a
great evening of entertainment with this passionate musician and consummate
artist filled with energy and talent, poised to take on the world with his music.
6:45 PM  Soul Junkies
Soul Junkies is a roots rock reggae band based outta Long Island, NY. Droppin fresh reggae riddim. Fostering the growth of the East Coast Reggae Revolution
5:30 PM  Konekt Band
KONEKT embodies the oneness that every group needs to go the distance. The love, respect and appreciation that we have for each other is priceless, and that's our secret weapon! Konekt is the meaning of true musicianship...a group of people who share the same goal and vision.

---