Friday March 04, 2016 @ 07:30 pm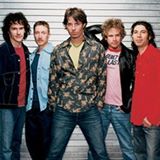 NINE DAYS, YEEHAW, Lonesome Dan & The Curmudgeons
THIS EVENT IS 21 AND OVER
DOORS AT 7 PM FOR ADVANCE TICKET HOLDERS ONLY.
DOORS AT 7:30 PM FOR ALL OTHERS.
8 PM  Lonesome Dan & The Curmudgeons
The Return Of Lonesome Dan & The Curmudgeons.  After a five year hiatus this disagreeable and unpleasant band of malcontents will take the stage once again.  This show will also mark the release of their new EP Random Thoughts.
9 PM  Nine Days
Released during the summer of 2000, the band's major label debut album, The Madding Crowd, was a blast of guitar driven pop songs with lyrical backbone. The album very quickly went Gold and spawned the hits "Absolutely(Story of a Girl)", which went to #1 that summer and was one of the biggest hits of the year, and "If I Am" (#18, 2000). The band was formed in Long Island, NY by singer/guitarists John Hampson and Brian Desveaux, who began writing songs together in 1994. In this immediate post – grunge world, the focus was on writing songs that combined the 80s pop they grew up with with 70s singer/songwriter Americana music they loved. After holing up in John's apartment for a few months writing songs, bassist Nick Dimichino, drummer Vincent Tattanelli and keyboardist Jeremy Dean joined the band and a "sound" was realized. After playing hundreds of shows and recording a handful of indie records in the late 90s, The band signed with Epic records in 1999 on the strength of a demo featuring the soon-to-be hit, "Absolutely (Story of a Girl)".
The band is currently in the studio with producer Jim Scott (Wilco, Grace Potter, Court Yard Hounds), working on it's ninth album. The new album will be a return to the guitar driven pop of it's 2000 debut.
10:30 PM  Yeehaw
Kick Ass Modern Country Band!
John Hampson (Guitars, Vocals)
John Miceli (Drums)
Brian Desvaux (Guitars, Vocals)
Bri Arden (Vocals)
Christine Sweeney (Bass, Vocals)
Andy Ascolese (Keys, Guitar, Vocals)

---