Friday May 04, 2018 @ 7:30 pm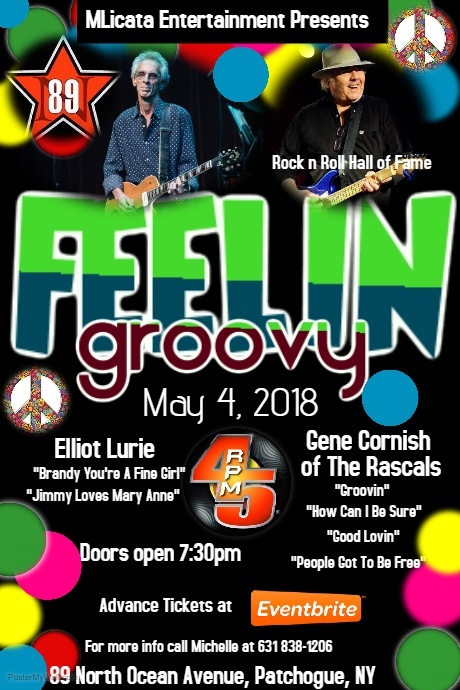 Feelin Groovy Show With 45rpm and Special Guests Elliot Lurie & Gene Cornish!
@ 7:30 pm
|
$25
|
$40 Reserved Seating
THIS EVENT IS 21 AND OVER
For this show, advanced tickets for reserved seating on the upper level are available. Table service included.
Feelin Groovy!
Special performances by Elliot Lurie (Looking Glass) and Gene Cornish (The Rascals)
Elliot Lurie - the American singer/musician who was the lead guitarist and songwriter for the band Looking Glass from 1969 to 1974. He wrote and sang lead on their 1972 #1 hit single "Brandy" and their 1973 top-forty single "Jimmy Loves Mary-Anne"
Gene Cornish is an American guitarist and harmonica player. He is an original member of the popular 1960s blue-eyed soul band The Rascals. From 1965–70, the band recorded eight albums and had thirteen singles that reached Billboard's Top 40 chart including Groovin, How Can I Be Sure, Good Lovin and People Gotta Be Free.
45rpm
Six slightly deranged musicians playing the cheesiest songs of the 70's. All the songs that were million sellers but were never cool enough for bands to play live. We play 'em. And we play them like they're the most important music of our time, performing note-for-note recreations of songs you thought you hated but, it turns out, you love. This band is a lot of FUN!
For more information, call Michelle: 631 838-1206
Music set to start around 8:00PM and end around 1:00AM

---
PHOTOS