Saturday May 21, 2016 @ 07:30 pm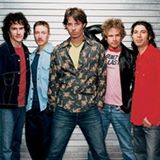 Nine Days, Yeehaw, Rorie Kelly, Christine Sweeney & The Dirty Stayouts
THIS EVENT IS 21 AND OVER
8 PM Rorie Kelly
"Independent, free, and full of complexity. Difficult to cage. rorie kelly is that type of indie rock." – LI Pulse Magazine
8:30 PM  Christine Sweeney & The Dirty Stayouts
Bluesy pop musician Christine Sweeney has been playing the LI music scene for 10 years. With a voice as powerful as it is sultry and sweet, she deftly handles poppy and playful without sacrificing genuine emotion. Her writing style is focused heavily on emotion of the lyrics, but the underlying music structure illustrates that she's no stranger to complexities in harmony, as well.  Influences include Joni Mitchell, Regina Spektor, John Mayer, Rilo Kiley, KT Tunstall. Christine's freshman release, "Live at the Bitter End," is a 5 song EP that features Christine and Dave Ferro (keys) on her original tunes recorded live at the famous NYC music club.
9 PM  Nine Days
Released during the summer of 2000, the band's major label debut album, The Madding Crowd, was a blast of guitar driven pop songs with lyrical backbone. The album very quickly went Gold and spawned the hits "Absolutely(Story of a Girl)", which went to #1 that summer and was one of the biggest hits of the year, and "If I Am" (#18, 2000). The band was formed in Long Island, NY by singer/guitarists John Hampson and Brian Desveaux, who began writing songs together in 1994. In this immediate post – grunge world, the focus was on writing songs that combined the 80s pop they grew up with with 70s singer/songwriter Americana music they loved. After holing up in John's apartment for a few months writing songs, bassist Nick Dimichino, drummer Vincent Tattanelli and keyboardist Jeremy Dean joined the band and a "sound" was realized. After playing hundreds of shows and recording a handful of indie records in the late 90s, The band signed with Epic records in 1999 on the strength of a demo featuring the soon-to-be hit, "Absolutely (Story of a Girl)".
The band is currently in the studio with producer Jim Scott (Wilco, Grace Potter, Court Yard Hounds), working on it's ninth album. The new album will be a return to the guitar driven pop of it's 2000 debut.
10:30 PM  Yeehaw
Kick Ass Modern Country Band!
John Hampson (Guitars, Vocals)
John Miceli (Drums)
Brian Desvaux (Guitars, Vocals)
Bri Arden (Vocals)
Christine Sweeney (Bass, Vocals)
Andy Ascolese (Keys, Guitar, Vocals)

---