Friday July 22, 2016 @ 07:30 pm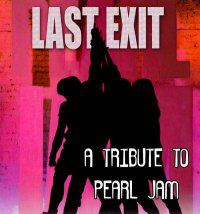 Lithium (Nirvana Trbute), Jesus Christ Pose (Soundgarden Tribute), Sludge Factory (Alice In Chains Tribute), Last Exit (Pearl Jam Tribute)
THIS EVENT IS 21 AND OVER
8:30 PM Lithium
Lithium is a tribute to the music of Nirvana.
9:30 PM  Jesus Christ Pose
"Jesus Christ Pose nailed Soundgarden's distinctive sound..." JESUS CHRIST POSE debut show at The Bowery Ballroom, New York City 12/18/10 — Elliot Levin, NY Hard Rock Music Examiner.
the one and only SOUNDGARDEN tribute band in NYC is here...
you're welcome.
JESUS CHRIST POSE - the only four musicians crazy enough to take on the pure genius that is SOUNDGARDEN.
from the electrifying, soaring vocals of Chris Cornell; the searing maelstrom that is Kim Thayil's guitar; Matt Cameron's intricate off-time, monster drumming; and Ben Shepherd's thunderous, melodic bass and wild stage presence, JESUS CHRIST POSE brings it all to you.
10:30 PM  Sludge Factory
Sludge Factory. A tribute honoring the music of Alice In Chains. Based in Albany, New York, Sludge Factory are four seasoned music professionals recreating the music of the greatest band of the Seattle grunge scene in the 1990s. The band performs songs from Alice In Chains' five full-length albums and two EPs, as well as songs that were released as part of compilations and movie soundtracks. Sludge Factory shows often include a full-power electric set followed by a haunting set of acoustic songs, performed in the style of the famous Alice In Chains MTV Unplugged performance. For booking contact Tier One Talent at tieronetalent@gmail.com.
11:30 PM  Last Exit
New York's LAST EXIT - a tribute to Pearl Jam, has exploded onto the East Coast tribute scene, certainly turning heads, and challenging you to close your eyes and see if it feels like a Pearl Jam show. The members of Last Exit have been playing together for over 13 years offering a chemistry rarely achieved by a tribute band, or any band for that matter. With the new addition of Jim Jackson on the drums, Last Exit is sounding more and more like their favorite band with every show.
We invite you to come and see for yourself!!

---