Saturday August 06, 2016 @ 07:30 pm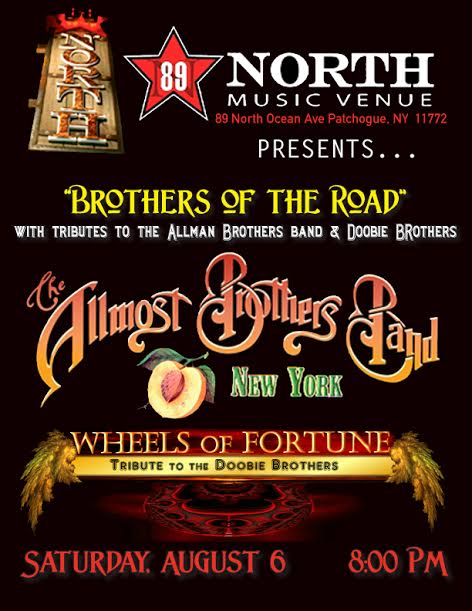 The Allmost Brothers Band, Wheels Of Fortune (Doobie Brothers Tribute)
THIS EVENT IS 21 AND OVER
For this show advanced tickets for reserved seating on the upper level is available. Waitress service for beverages and food is included.
8 PM  Wheels Of Fortune
The WHEELS OF FORTUNE BAND "A Tribute to the Doobie Brothers was founded with the intent of performing some of the best Doobie Brothers Music derived from  their oldest albums all the way up to their most recent. The Band performs the music faithfully and accurately reproducing the sound of the Doobie Brothers while adding a touch of modern originality with  high performance energy and passion.
The band is composed of 9 multi-talented, highly experienced professional musicians who dynamically create a heart felt, powerful show celebrating the music of the Doobie Brothers. Each band member brings forth exhilarating energy and accuracy creating a synergy of sound contributing to the timeless music of the Doobie Brothers.
10:00 PM  The Allmost Brothers Band
A tribute to the legendary Allman Brothers Band... The Ultimate Allmans Experience
Members: Sean McGrath- Guitar Bob Oven- Vocals, Percussion Dave Losee-Drums Joe Wasserman- Vocals, Keyboards Bruce Dickson-Drums Tom Hooker-Bass Dave Filloramo-Guitar

---