Saturday August 13, 2016 @ 07:30 pm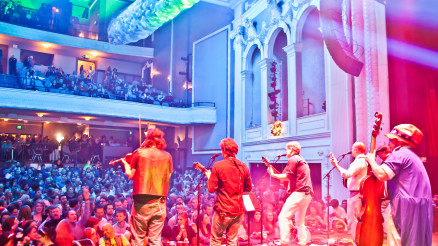 Love Canon, The Brother Pluckers, Val Levine and the Paper Romance Band,
THIS EVENT IS 21 AND OVER
8 PM  Val Levine and the Paper Romance Band 
9 PM  The Brother Pluckers
The Brother Pluckers have been playing together since the Summer of 2011. Sharing a love for both acoustic music and live performance, the Pluckers bring to the stage a refreshing mix of favorites by The Grateful Dead, The Beatles, Bob Dylan, Wilco, and many others.
10 PM  Love Canon
Sprouting from the musical foothills of the Blue Ridge Mountains, Charlottesville, Virginia's LOVE CANON currently resides in full bloom. The musicians, led by guitarist Jesse Harper, are six seasoned virtuoso string players fused together by wood and wire to become LOVE CANON.
""Love Canon doesn't cover the music of the '80s as much as kidnap it and take it on a bluegrass-tinged joyride."
With a passenger van and a trucker's atlas, LOVE CANON has been touring the mid-Atlantic since 2010 bringing their own raucous blend of bluegrass to the masses. The band's diehard fans are music lovers first and foremost, drawn to the beautiful high-lonesome stylings of Harper's guitar and vocals paired with banjo master Adam Larrabee, mandolin pickin' by Andy Thacker with Darrell Muller holding down the low-end on standup bass. The band is augmented with the sweet sounds of resonator guitar king Jay Starling on the Beard MA-6.
LOVE CANON has previously shared the stage and studio with David Grisman, Ricky Skaggs, and Bruce Hornsby and as a band have toured with Josh Ritter and The Infamous Stringdusters. They have played festivals around the country; including LOCK'N and GOTV, have played live on the BBC and RTE radio and are currently recording their fourth studio album, LOVE CANON & FRIENDS, with special guest Keller Williams and many more.

---