Saturday October 01, 2016 @ 07:30 pm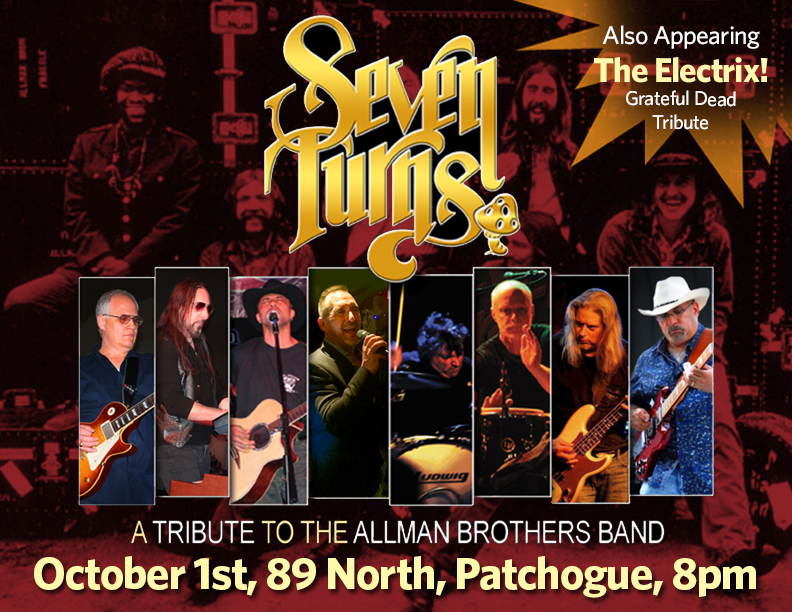 Seven Turns, Electrix
THIS EVENT IS 21 AND OVER
8:00 PM Seven Turns
Seven Turns is an eight-piece band that is considered by many to be one of the New York area's finest tributes, celebrating the music of the Allman Brothers Band. We have performed with national acts Artimus Pyle (Lynyrd Skynyrd),Molly Hatchet, The Zen Tricksters and NY favorites, The Stanton Anderson Band. We have played at some of the areas best venues including the Patchogue Theater, 89 North, The Nutty Irishman, The Downtown, The Crazy Donkey and Mulcahys. Seven Turns strives to cover the many styles within the music of the Allman Brothers from rock to blues, jazz to country. Our desire is to create an authentic tribute but one that allows us as musicians to improvise within the framework of many of their great classics. Come join us at one of our shows and share our passion for the music of one of America's greatest bands!
10:00 PM Electrix
The Electrix is a group of accomplished musicians, each with a lifetime of diverse experience in the music field.
The Electrix have been together since 1995 and are recognized as one of the leading jam bands performing classic rock of the Grateful Dead and Allman Brothers, other related genres of music, and original compositions.  The Electrix weave in and out of intense jams with an incredible amount of enthusiasm and feeling, adding their own interpretation and style.

---
PHOTOS