Thursday October 13, 2016 @ 06:00 pm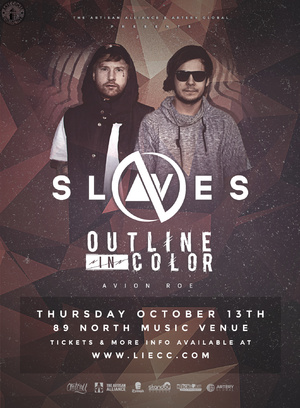 Slaves
THIS EVENT IS 16 AND OVER
EAST COAST COLLECTIVE PRESENTS
THU, OCTOBER 13, 2016
6:00 pm
89 North
Patchogue, NY
This event is 16 and over
The Sacramento-based band features Jonny Craig (Dance Gavin Dance, Emarosa) and Alex Lyman (Hearts and Hands), two artists who've built a name and reputation for themselves in their respective projects, but are now branching out creatively with Slaves.Slaves will release their debut album this summer via Artery, but the band has shared a 70-second teaser, which provides both an audio and visual keyhole look into the process and the project. It should tide fans over for now. The teaser can be watched below.It's a birds-eye view of Slaves in the studio. Craig's unique, critically acclaimed voice, which is drenched with emotion and rich with soul, powers the clip and offers just the right taste of what's to come, all the while leaving you salivating for more."Men have been enslaving men for as along as we've had gods to hide behind," Craig said. "Every man is a slave to what we love — whether it be women, drugs, music or sports. Through art we are all equals."
Slaves will also embark on their first tour this May. More details regarding the trek will be announced soon.
The building blocks that compose the origins of any band all consist of one common denominator; a passion for music. The Tulsa, Oklahoma based post-hardcore band, OUTLINE IN COLOR, share a unison sense of originality and a near obscure level of drive that simply sets them apart from the rest.
Forming from the reminiscence of several local bands in 2010, OUTLINE IN COLOR recalls never aspiring to sound similar to any specific band on the scene. "We just knew what sound we wanted and we created it," said bassist Mike Skaggs. After several writing sessions OUTLINE IN COLOR's first EP, Outline In Color, was self-released in October of 2010 and has since sold over 7,000 digital copies and is distributed world-wide (including Japan).
Though the release of their first EP was successful, the band knew one thing was missing: a finalized clean vocalist. After months of searching, the band saw a perfect fit in K.C. Simenson. Without a doubt in his mind, Simenson left Berkley College of Music in Boston, MA, and officially joined the band in February of 2011. The group mutually felt it was time to start focusing on a debut LP and immediately began writing. Since the LP was going to be self-funded, OUTLINE IN COLOR collaboratively started a kickstarter project, which resulted in a portion of the LP being funded by their loyal fans.

---