Saturday November 05, 2016 @ 07:30 pm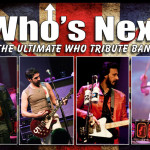 Streetfighter (Rolling Stones Tribute) Who's Next (Who Tribute)
THIS EVENT IS 21 AND OVER
For this show advanced tickets for reserved seating on the upper level is available. Waitress service for beverages and food is included.
DOORS AT 7 PM FOR ADVANCE TICKET HOLDERS ONLY.
DOORS AT 7:30 PM FOR ALL OTHERS.
Who's Next - 8:00PM
Who's Next is the Ultimate Tribute to the worlds greatest band THE WHO
Streetfighter - 10:00PM
A review from a recent concert.
"GREAT SHOW last night!!! Audience response to each song with solid vocals and outstanding music from the band make Streetfighter the real deal when it comes to paying tribute to the Rolling Stones. Many in the crowd of 3,100 said it was the best concert yet in our six year history, and we have had many outstanding bands perform for us during that time! Continued success and we look forward to your return in future years."

---
Have A Beer Save A Rear
THIS EVENT IS FOR ALL AGES
Help Anthony's fight against colon cancer!
Music provided  by by Dj Robby Rob, and buffet style food dontated from PeraBell Food Bar, The Mill Roadhouse,
The Tap Room and Flo's Luncheonette.
$20 DONATION AT THE DOOR
---
PHOTOS