Sunday November 08, 2015 @ 12:00 pm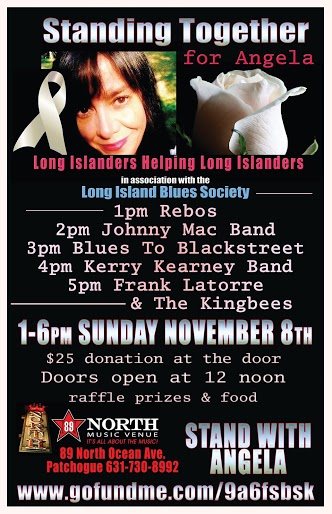 STANDING TOGETHER FOR ANGELA
THIS EVENT IS FOR ALL AGES
Our Angela Lombardo, a vibrant, young, beautiful, strong loving supportive soul has been battling lung cancer for 12 years. For the fourth time in 12 years her illness has returned and this time with a vengeance. So as to support her, we are STANDING WITH ANGELA to support her in her battle to fight on!
Donations can be made at https://www.gofundme.com/9a6fsbsk
In association with the Long Island Blues Society and some local musicians, Long Islanders Helping Long Islanders invite you to join us for this very special event....
Thanks to the Long Island Blues Society we have assembled an "All Star Line-Up" for Angela.
Featured artists include:
1pm Rebos
2pm Johnny Mac Band
3pm Blues To Blackstreet
4pm Kerry Kearney Band
5pm Frank Latorre & The Kingbees
...stay tuned for more details and please share this with your friends!
So Lets STAND WITH ANGELA
$25 donation at the door.
Raffle prizes include:
~ a 40" screen t.v.
~ an awesome guitar (signed by all of the artists if the winner so chooses)
~ many other raffles - TBA. (Please message us if you wish to donate a raffle prize)
~ 50/50 Raffle tix
FOOD! (we won't let you leave hungry!)
And best of all, the chance to help one of God's Sweet Angel's who has done so much to help all of us.
NOW IT'S OUR TURN!
Hope to see all of our friends!
God Bless and Thank You!
---