Thursday November 19, 2015 @ 07:00 pm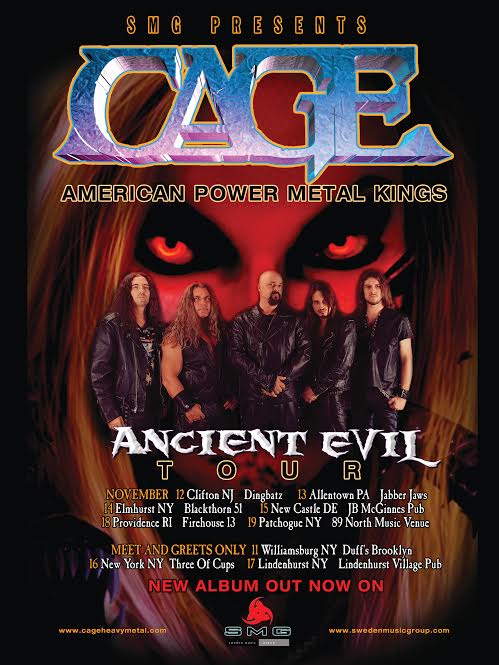 Cage, Spiritual Sickness, Black Jacques Shellac
THIS EVENT IS 21 AND OVER
10 PM  CAGE
Formed in 1992 after the demise of local San Diego heavy metal stalwarts CRUSHER and NOMAD. From the ashes of those two bands would arise a metal machine that would evolve into one of Earth's mightiest groups, whose exploits have become a thing of legend in the underground. Sometimes known as THE AMERICAN POWER METAL KINGS, CAGE has earned that moniker over two decades by gaining a reputation as an unmatched live act and by releasing one award winning album after the next. Now, with what may be their most fearsome lineup yet, they are releasing their 7th album, a horror-concept CD called ANCIENT EVIL.
Their first album UNVEILED in 1999 garnered them the title of best new unsigned band in GERMANY's legendary ROCK HARD magazine voted on by the fans and beating out over 700 other bands in the process. That launched them in Europe as they signed their first record deal and played the DYNAMO festival in Holland that year. A short time later ASTROLOGY was released and more festival appearances followed including a jaw dropping shows at the WACKEN OPEN AIR and THE BANG YOUR HEAD festival. Some say their next album DARKER THAN BLACK was their true break through as a larger record label took over the helm and their first of many "Album of the Month" awards from the prestigious HEAVY ODER WAS magazine was attained. CAGE then hunkered down for three years releasing the ominous Heaven vs. Hell concept mega album, HELL DESTROYER. The accolades from the press kept coming including an astounding 12 "album of the year awards." The speed and fury increased dramatically with SCIENCE OF ANNIHILATION and SUPREMACY OF STEEL which both received again "album of the month" from HEAVY mag breaking KING DIAMOND's record for most times ever! Whew!
9 PM  Black Jacques Shellac
8 PM  Spiritual Sickness
SPIRITUAL SICKNESS is a Progressive Power Metal outfit that hails from the shores of Long Island, New York. These guys are certainly no newbies to the Local Metal Scene, yet always seem to find a way to keep it new and exciting with the insane complexity in their song writing.
The band consists of Jeff Kohler on Vocals, Ed Mischke on Guitar, Jim Nola on Bass and Marc Capellupo on Drums. They are one of the most focused and passionate bunch of guys when it comes to writing, recording and performing their style of Progressive Metal. Their music is anything but simple to play yet these guys do it with such ease that you just cannot help but pay attention when you hear them.

---