Sunday November 22, 2015 @ 02:00 pm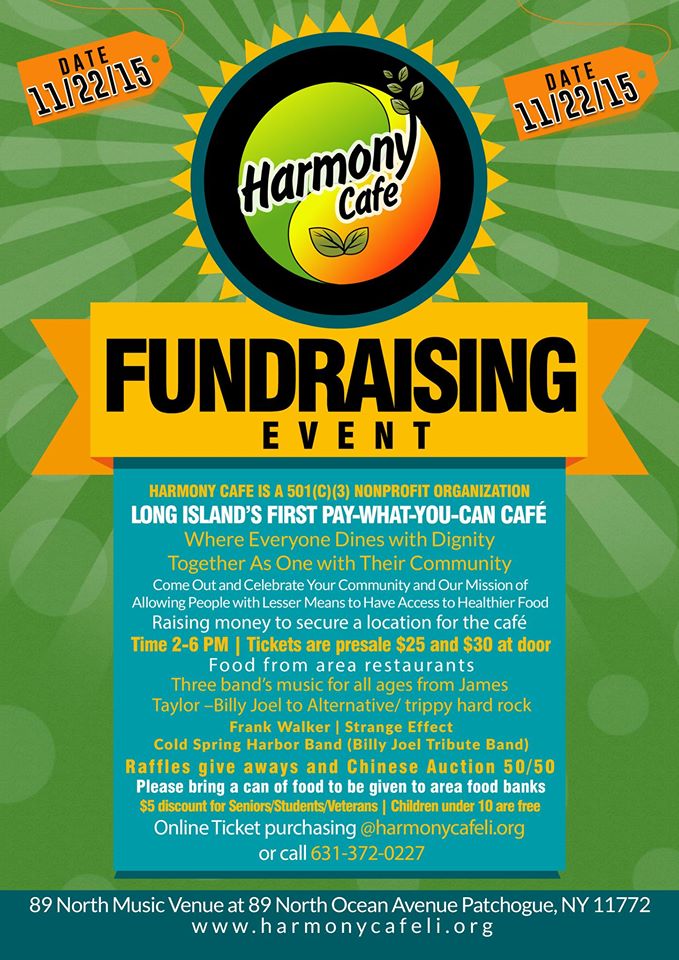 Harmony Cafe's Empowering Change Fundraising Event
THIS EVENT IS FOR ALL AGES
Join us for our First Fundraising!
Enjoy music from a variety of musical talents from:
Cold Spring Harbor Band (Billy Joel Tribute Band)
From Soft Rock/Pop to Alternate/Trippy Rock
Food will be served from your favorite area restaurants
Coffee/Cappuccino will be served by Hampton Coffee Company 
Basket Raffles/Chinese Auction/50/50
Date: 11/22/15
Time:2-6 pm

Please bring a can of Food that will be given to area food banks
Sponsorship packages are still available, call 631-372-0227
Ticket  $25
Children under 10 Free Seniors/Students/Veterans $5 discount
Please visit our Website at www.harmonycafeli.org
Purchasing tickets online available now!
Thank you for support!!
````````````````````````````````````````````````````````
`Harmony Café is a 501(c)(3) Organization. Our Mission is to help end local hunger and food insecurity by providing healthy and delicious food to all who walk through our door. We will welcome and serve all patrons equally in a respectful and dignified manner, regardless of their ability to pay. We will be using a Pay-What-You-Can-Afford meal model. We will encourage community fellowship and instill a Pay-It-Forward culture amongst our neighbors. Harmony Cafe strives to remove the separation in society based on a person' s status, income level or any other circumstance that typically creates social barriers. Raising money to secure a location for the cafe.

---