Friday December 16, 2016 @ 07:30 pm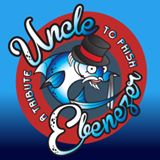 Grateful Girls, Soundswell, Uncle Ebenezer (Phish Tribute)
THIS EVENT IS 21 AND OVER
Grateful Girls - 8:00 PM
Grateful Girls are an acoustic duo featuring Cindy Lopez on vocals and Katie Pearlman on guitar and vocals. This female duo is what you get when two strong front women share effortlessly in music: trading lead vocal duties and harmonizing throughout. Katie Pearlman, an accomplished singer/songwriter in her own right, plays acoustic guitar, while Cindy Lopez, a 20 year veteran of the Long Island music scene, sings and occasionally backs Katie with percussion instruments. These two women have similar tastes in music and a passion for writing and live performance. Their repertoire covers personalized takes on the music of The Grateful Dead, Motown, traditional standards, an occasional original and more.
Soundswell - 9:00PM
Soundswell is a band of surfers, artists, and free thinkers creating meaningful sound experiences; fusing rock, funk, jazz, and blues, with heavy rhythmic currents and a pulsating beat. Based in Patchogue, these eight musicians explore the spirit of live improvisational music. Each member adds their own color to Soundswell's canvas, playing an active role in generating a fluidity of sound, a sound that flows from a willingness to embrace each moment, to ride each wave. In little over a year the band has managed to plant themselves firmly in LI's music scene. They have performed at The Great South Bay Music Festival, The Pennysaver Amphitheater at Bald Hill, Stephen Talkhouse, The Patchogue Theatre, Blue Point Brewery, 89 North Music Venue, Grey Horse Tavern, the Brickhouse Brewery and The Velvet Lounge.
Uncle Ebenezer - 10:30PM
Uncle Ebenezer are four musicians and Phish fans who are dedicated to spreading the joy and excitement of the live Phish experience. Combining accuracy and musicianship with whimsical performance, Uncle Ebenezer seeks to light up clubs and venues the way Phish did when they played intimate settings. The rich history of Phish's career and the part it played in Uncle Ebenezer's lives inspires them to recreate the sound, look, and feel of those amazing performances.

---