Saturday December 30, 2017 @ 7:30 pm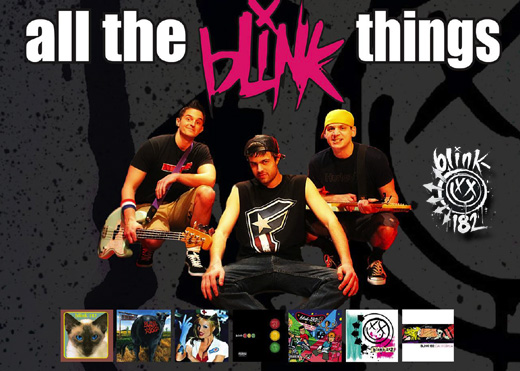 The Big Happy, New Divide, All The Blink Things
@ 7:30 pm
|
$10
|
$12 Day of Show
THIS EVENT IS 21 AND OVER
Doors open at 7:00 PM for Advanced Ticket Holders; 7:30PM for General Admission
The Big Happy - 8:00PM
The Big Happy is a seven-piece original character band. Drawing upon a wide range of influences, the band seamlessly blends the rap-infused rock of Twenty One Pilots with the sunshine vibes of Sublime and the funky sensibilities of the Red Hot Chili Peppers.
New Divide - 9:00PM 
A tribute to Linkin Park
Rarely does it happen that a band forms and has the chemistry and talent as well as the experience on stage that New Divide has.
Each member of the band is currently tearing up the local Long Island music scene on their own and now they have joined forces for this powerhouse of a band.
Joe Pisciotta is one of the lead vocalists in the incredibly popular band Ninja's Need Money.  He is also the lead singer/rapper for the successful Long Island band 12X.
Dean James Silva is the lead singer and piano player for the very popular Billy Joel cover band Angry Young Men, his passionate vocals and keyboard magic is unsurpassed.  
Bassist Chris D'Alessio has played with everyone from Green Machine to High Def and is recognized as a true professional and quintessential rock and roller.
Brian Mckeever, who has been a staple on the Long Island music scene handles the lead guitar chores.
Lee Nelson is handling the drums for New Divide.  He is a veteran of the music business who has worked with industry heavyweights such as Evan Seinfeld, Joe Perry and Katy Perry among many others.  You can see Lee drumming on the local scene in The AYM and in SIGNS, a Tesla tribute band that plays the tri-state area.
All The Blink Things - 10:00PM
All The Blink Things undoubtedly delivers the most authentic blink-182 experience performing all the hits while capturing your favorite pop punk band's nostalgic rise to fame. Without question, Blink 182 is the most influential band of modern pop punk. Fast, catchy songs, crude humor and raw energy make for an unforgettable live performance. All The Blink Things performs ALL the hits and ALL the fan favorites using the same raw energy and on stage antics to re-create the awesome experience that is Blink.

---
PHOTOS